Image

We invite you to co-create texts on topics related to the idea of the Biennale:
e-POLIS | City of the future | Science | Ukraine | medicine | accessibility of culture | future in the theater | education | VR/AR | ars electronica |
We invite experts and practitioners to co-create a holistic discourse on the role of culture and its future. W welcome you to send your topics suggestions along with 6 key points in Polish and English via this form.
"Kultura Futura is a holistic project that invites groups from various backgrounds and fields to dialogue and discussion. This interdisciplinarity allows us to take a broader look at the reality surrounding us and the modern world's problems. Speak up on our vortal and actively join Kultura Futura."
KULTURA FUTURA
Interdyscyplinarne Biennale Sztuki i Techniki Przyszłości.
ul. Rajska 12,
31-124 Kraków
Image
Alek Janicki
Interdisciplinary artist:  performer, graphic artist, architect. He uses AR, VR, AI, and holography technologies to create multi-sensory performances. Founder of Formation HiQ and Big Data Collective. Creator of the AYA Found Foundation, Galeria i! and the Janicki Pharmacy. Lecturer at the Academy of Fine Arts in Krakow. He is the winner of many awards and the voice of innovation and future in Poland and abroad. Art curator of the biennale. He dynamically develops the idea of e-POLIS and focuses on implementing this concept in the Wesoła district in Krakow.
Image
Natalia Podyma
Artist, performer, and social activist. Creator of many nationwide social projects, installations, and performances. An alumna of the Faculty of Political Science and International Studies at the University of Warsaw. She studies acting at the Academy of Theater Arts in Wrocław. Since 2020, she has been a member of the Stanisław Wyspiański Association. For many years she collaborated with the Krakow Opera. A lover of Gaga's dance and intuitive dance. During the pandemic, she conducted therapeutic dance classes.
Image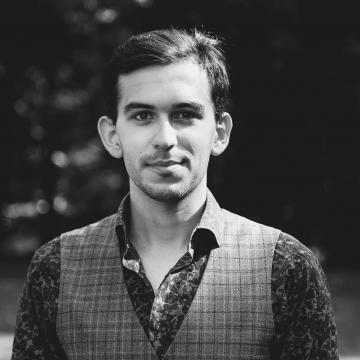 Arkadiusz Klej
Creator of art installations touching upon topics such as artificial intelligence and ecology. Co-organizer of youth theater festivals. Academically related to the education evaluation, he carried out activities in this area for the Polish Development Fund, the Jagiellonian University, and the SWPS University. Member of the board and later president of the Stanisław Wyspiański Association in 2020-2022. Privately, he believes that "everyone can sing" and spends his free time climbing trees in various European capitals.