Image
Journa(y)l #4 - Medicine
Medicine saves health, only do we value it? What kind of models does modern culture give us? Can the conflict in Ukraine be a space for innovative medical architecture solutions? 
Time is rushing at breakneck speed, and we are constantly running trying to keep up with it. However, in the course of running, sometimes we have to stop and go for medical help. Only then some of us realize that , "medicine" is not idle and doctors are looking for more and more effective methods of treatment and diagnosis. 
This month on the Culture Futura vortal, we focused on the topic of medicine to look at the latest scientific developments, trends and challenges. Below, we summarize the most important information and reveal the secrets about the projects that will see the light of day in the coming months. We invite you to read on!


1. Experience and discover - Copernicus Science Center.
Surely many of us at least once wanted to become a mad scientist! See what it's like to explore and discover. For more than a dozen years on the map of Warsaw there is such a place, which invites into its humble thresholds and attracts large and small seekers of knowledge, science and adventure. The Copernicus Science Center, constantly tempts with new programs, interesting educational paths and evening attractions for adults. This month we took a closer look at the current offerings and the opening of a new building belonging to CNK! More info available here.

2.  Low-tech and high-tech - why is it important to know the distinction?
As complex technologies change our lives from day to day, it's worth stopping to understand how they affect our daily lives, and most importantly, the ever-evolving medical field. How do we effectively combine complex devices and simple changes in habits? Using medicine as an example, we explain the issue in this article! 
 
3.  Pioneering medical startups from the Vistula.
We invited the founders of two medtech startups to share their stories and talk about the projects that are pushing the boundaries of medicine on ours. 
 
Micronose - is a natural, intranasal allergy therapy based on specialized probiotics, which is an alternative to current treatments, without numerous side effects. Micronose uses more than 10 years of research on bacteria to restore immune balance in the respiratory tract. This is a tailor-made product for the conscious customer who does not want to use synthetic forms of therapy. It is the first of its kind on the market!


 

EMOTE - "Early Markers Of antidepressant Therapy Efficacy" - a team that uses blood tests to improve pharmacotherapy for people facing mental problems. Currently, the selection of medications for people suffering from depression is largely done "blindly" based on the patient's subjective feelings. This involves a months-long process of selecting the right medication. With Emote, antidepressant drug selection can be based on biomarker activity in the blood. This allows more efficient drug selection and shortens the procedure by up to four times. In addition, the founders are aiming for the biological material used for the test to be a so-called "dry drop of blood," i.e. a drop of blood taken from a fingertip onto a special diagnostic blotting paper. If you would like more information you are cordially invited to read the entire article - here.
Image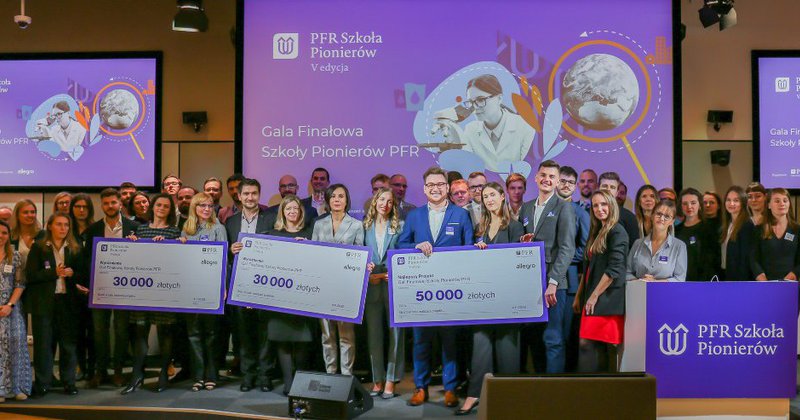 4. The Red Cross hospital project has seen the light of day!
At the end of January, a model of the Red Cross hospital building was ceremoniously handed over to a delegation from Ukraine, to the president of the National Union of Architects of Ukraine, Alexander Czyzhievskyi, during  4 Design Days in Katowice.
The author of the concept is Aleksander Janicki - artist, designer, president of the AYA Found, author of many prestigious objects awarded in Poland and abroad. 
The building of the field hospital refers in its shape to the sign of the Red Cross, also known as the Geneva Cross, created during an international conference in Geneva in 1863 as a hallmark of volunteers bringing aid to wounded soldiers. With the approval of the authorities in Geneva, it will be allowed to be used in Ukraine. The idea of the building has become a metaphorical symbol of Ukraine as a safe house, but it's not just an idea. Design work is currently underway to ensure that the project can be carried out in war-affected Ukrainei. 
The project is innovative in nature. Created in cooperation between Polish developers and architects from Ukraine, it will ultimately use the latest technological advances including:
HiQ Brick - an autonomous modular building system made from recycled re-use materials,

BioMedAqua - a system to protect against microbiological threats to water and air, 

ProModulTech - a standalone modular architecture system.


 
It's also a building to be covered by electronic security - a signaling system at the same time protected by the Red Cross international humanitarian law. Janicki's idea is also to engage the medical infrastructure of the future including with artificial intelligence in cooperation with the Center for Personalized Computing Medicine - Sano.