Image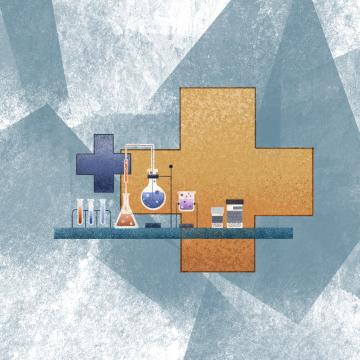 Medical startups
A medical revolution fueled by innovative start-ups is transforming the way we diagnose and treat, impacting the future of healthcare around the world. 
Medicine is undergoing a revolution that is changing the way patients are diagnosed, treated and cared for. In recent years, we have seen a growing number of medical start-ups that are bringing innovative solutions to the market and often revolutionizing standard treatments. Artificial intelligence (AI) supports doctors in diagnosis by analyzing test results and medical images. Robotics allows precise and minimally invasive procedures, 3D printing of tissues and organs opens new perspectives in regenerative medicine, while CRISPR technology enables gene editing, which can lead to the treatment of many genetic diseases.
Interesting medical start-ups include, for example, Butterfly Network, which has developed a portable ultrasound machine that enables quick and precise diagnosis of medical conditions. Other promising startups include Tempus, which deals with genetic analysis in oncology, and Intuitive Surgical, a developer of advanced robotic systems used in surgery. Today, however, we will focus on two innovative start-ups from Poland - we are talking about Emote and Micronose. These two start-ups have made significant progress in their respective fields, driven by a commitment to improving patient care and solving important medical problems.

MICRONOSE 
In recent years, Poland has seen an increase in the number of allergy sufferers. Allergics make up about 30% of the population here, but the percentage is constantly increasing. What to do? Microsone, the first natural, intranasal allergy therapy based on specialized probiotics, comes to the rescue here. The main founders of Micronose are two female scientists - Sabina Gorska, PhD, and Agnieszka Razim, PhD, of the Polish Academy of Sciences. In their own words:, "Our biggest motivation is our children, who suffer from allergies. Our participation in the 5th PFR Pioneers School was also significant, during which we made sure that this idea had a future. As part of the class, we conducted numerous studies and surveys, which showed us that allergy sufferers are not satisfied with their current therapy, and sometimes even give up because they don't want to use the so-called "chemistry. That's when we made the decision that it was time to move our product from lab shelves to pharmacy shelves." 
Why is Micronose a revolution?
Currently, there are two ways to deal with inhalant allergies, that is, to so-called pollen. The most common is a therapy based on antihistamines and steroids, but this is a treatment that acts symptomatically - it does not cure, but only calms down allergy symptoms. The use of these drugs is not indifferent to our body. Patients report numerous side effects in the form of feelings of drowsiness and stupefaction or headaches. To make matters worse, long-term use of steroids can affect the body's hormonal balance and cause changes in the nasal mucosa that are difficult to reverse. The other way to deal with allergies is through painful and prolonged desensitization, which is not always effective. 
According to Sabina Gorska, MD, "The innovation with Micronose is the combination of a natural drug in the form of safe probiotic bacteria with 10 years of research that has confirmed the effectiveness of these bacteria in restoring proper immune balance in the upper respiratory tract. Micronose is a natural and safe alternative to current treatments. The therapy is not associated with side effects and is well tolerated and safe. Micronose is a product innovation - we offer a tailor-made product for the conscious customer who does not want to use synthetic forms of therapy. Currently, there is no such solution on the market." 
It is also worth mentioning that the startup was founded by scientists. The founders collaborate with experts in various fields, and not only innovation, but also more than 10 years of scientific research and the latest medical data are behind the solutions introduced. The young startup took part in the PFR Pioneers School, a program that helps experts in various fields create innovative companies. At the Final Gala, the start-up was recognized by the jury, receiving funding for further development.
Its uniqueness and having specialized probiotic strains with anti-allergic effects puts Micorosone as an unrivaled product. Additionally, as the founders admit - "Our goal is to create a global company that will be a leader in the field of anti-allergy probiotics. We will offer not only general-purpose formulations but also personalized allergy therapy based on the customer's microbiome."
If the visions of the future come true, it won't be long before allergy sufferers will be able to sleep soundly and persistent runny noses, congested noses and other allergic complaints will be a thing of the past. 
EMOTE - Early Markers Of antidepressant Therapy Efficacy
Emote is developing technology that will be able to help effectively select medications for people using pharmacotherapy to combat mental problems.
Treating depression is not easy, and one of the biggest difficulties is choosing the right drug. The first effects are visible only after 4-8 weeks of use, and moreover, people with depression have to try several before they find the one that brings improvement. Thus, long months may pass, during which
during which many patients lose faith in treatment and may even make suicide attempts. According to Dr. Bartosz Frycz - one of the founders - "Our goal is to create a diagnostic test that allows early assessment of the effectiveness of antidepressant therapy, which would translate into up to 4 times shorter treatment selection time. Hence the name "Emote" or Early Markers Of antidepressant Therapy Efficacy- early markers of therapy effectiveness.[...] Our start-up has its origins in the long-standing biological research conducted by Dr. Monika Bijata. Motivated by a case of depression in her family, Monika described a previously unknown signaling pathway in the brain associated with the development of the disease. Having witnessed for herself the enormous difficulty involved in selecting an effective antidepressant drug, Monica wondered how her findings could solve this problem." 
Depression is a very complicated disease, and its development depends on many factors, including genetic predisposition and environmental conditions. According to the World Health Organization (WHO), about one-third of adults currently suffer from depression, and 25% of these people will attempt suicide. Most suicide attempts are made during the first eight weeks of antidepressant therapy. During the first phase of therapy, due to the effects of antidepressants, patients feel less anxiety, but if the treatment is poorly chosen, they are still in a very bad mental condition and without a sense of hope for improvement. There are more than 100 antidepressants available, but unfortunately the treatment success rate is less than 60% for each of them. This is because, to date, no reliable method has been invented to evaluate the effectiveness of antidepressant therapy, and the selection of drugs is done randomly based on the patient's feelings. This process, in some cases, even takes years, which can lead to drug-resistant depression. When it comes to treating depression, time is crucial and life-saving. For these reasons, among others, finding the right biomarkers for the effectiveness of antidepressant therapy, becomes an urgent need.
Emote's innovative approach can meet this need, according to Dr. Bartosz Frycz:  , "In our approach, the selection of an antidepressant drug would be based on the activity of a biomarker in the blood. In addition, we are aiming for the biological material used for the test to be a so-called "dry drop of blood," that is, a drop of blood taken from a fingertip onto a special diagnostic blotting paper. This approach will make the test easy, minimally invasive and allow the patient to draw the blood himself. [...] We are convinced that our solution will significantly reduce the time to wait for the first therapeutic effects, increase patient confidence in treatment, and provide psychiatric physicians with an effective diagnostic tool that they currently do not have."
Currently, however, the Emote team faces the most important task, namely confirming the effectiveness of the method on a sufficiently large group of patients. Unfortunately, the process of acquiring material for the study is very tedious, which is why they are constantly looking for clinics, psychiatrists and, of course, patients who would be interested in participating in the research. To raise awareness of Emote, a social media profile for this start-up was recently created, as well as a website where one can learn more about the project. The most time-consuming part of the project, however, is the research itself, which is being conducted at the Laboratory of Cell Biophysics, at the Marceli Nencki Institute of Experimental Biology in Warsaw. Without proper research, the start-up will not be able to grow, and plans for the future are promising. As our expert admits, "Ultimately, we would like to put a simple, accurate and reimbursable diagnostic test in the hands of patients and doctors. With this, we believe that the treatment of depression will be based on effective diagnostic tools, which will contribute to improving the health of patients struggling with this severe disease." 
Emote's innovative approach to mental health care continues to gain traction.  The company has received funding from various investors and was recognized at the Final Gala of the 5th Edition of the Pioneer School. The team continues to grow the start-up through numerous collaborations with clinicians who recruit patients for the study and support them with their knowledge and experience regarding the treatment of depression. In addition, it also collaborates with universities and other scientific institutes. This is definitely the future and a revolution in our healthcare!
Image